Homemade desiccant devices are effective, especially when we place them well in important areas, but those with industrial capacity are even more effective, because they have more powerful characteristics, necessary for the industrial sector, construction and other divisions.
If we want to ensure that we do not have material and economic losses in industrial processes or in the construction of a property, we must be aware of the drying process, which is necessary for many of the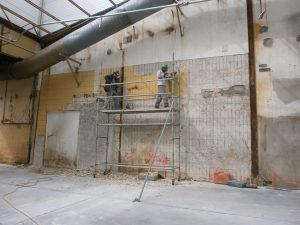 applications in construction sites and production areas, storage and even restoration.
Although there is a lot of variety when choosing a portable or fixed industrial humidifier, it is best to inquire into the specific characteristics that a product of this type may have, such as the housing of the device; resistance to vibrations, quality of the motor and propellers; energy efficiency (a very important issue in the modern era); shock resistance; plastic resistance; among other features.
Accelerate the drying process in building works with industrial dehumidifiers
To make a good drying of construction masonry, it is recommended that the desiccant mechanisms to be used be portable but with industrial capacity, so that they can be easily transported to all areas for the plaster drying process.
The experts in construction and specifically in masonry, affirm that no type of masonry, is really resistant to the water. There will always be factors that determine eventual damage to this class of structures, either due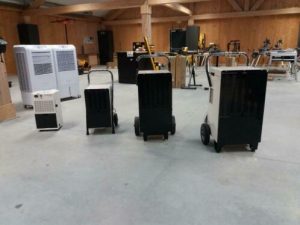 to material absorption, capillary action or simply due to an error in the construction process.
In this sense, drying on walls and masonry becomes a fundamental issue, where promoting good ventilation in cavities and surroundings will help the plaster and other materials to remain in good condition with optimal drying.
These dehumidification systems will also help industrial structures throughout your building, preventing excessive atmospheric saturation, which puts storage or production areas at risk. But that's not all they do in an industrial setting.
The utility of the industrial dehumidifier in production and storage factories
Machinery is one of the first affected when there is high humidity in an industrial area. Said condensations corrode the metals of surfaces and components of a machine, putting its functionality and operability at risk. This same machinery can represent a danger due to eventual condensation in circuits, and more so in production processes that need to work with certain hygrometric conditions, with steam generators or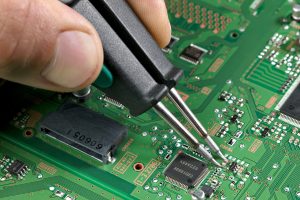 humidification systems; humidity control is extremely necessary in those scenarios.
Likewise, in some processes, they must work with the assisted drying of products during their production. So it is necessary that portable or fixed industrial dehumidifiers are in optimal operation during these crucial moments.
The hygienic products industry, which works with hygroscopic materials, such as toilet paper, sanitary napkins, diapers, among other products, constantly needs effective and efficient desiccant systems, thus avoiding as much as possible the waste of these products.
In electronics, humidity control is essential in the production and assembly of components, where circuits and other connections have to be free from atmospheric saturation, at all times, even in the storage process. The oxidation of metallic components is a problem at all times in the electronic and technological industry; in this sense, the use of desiccant systems becomes a priority. Now, it is also important to mention that too low a humidity could damage the parts due to electrostatic charges; humidity control with humidification and drying is essential.
In industrial printing and serigraphy, very low or high humidity also affects the quality of the paper, damaging it in many ways. It is necessary to control these micro-climatic changes with a good industrial dehumidifier system.