The expense of electricity and gas in large hotel complexes can be very important, causing the energy demands to be excessive. Usually, the bill can represent 20% of operating costs, but this can vary greatly depending on the season of influx of people and of course, sometimes on the climate in question, because some air conditioning systems work with a hot water source.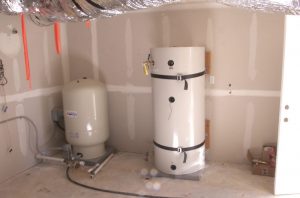 Such variations may represent higher peaks in energy consumption, if obsolete or poor condition conventional mechanisms are used; it is essential to have a good maintenance of these devices, or failing that, replace them with updated and more environmentally friendly devices, such as hybrid water heaters or the solar boiler itself. We must avoid monetary losses with new technologies, which also help to give a better image of the hotel.
There are examples of field studies, where very concrete results have been obtained in the relationship of energy expenditure and use of hot water devices, of any type. For example, hotel complexes that have between 110 and 150 rooms, the hotel could consume up to more than 159,000 kW / h, varying according to demand and low and high seasons.
Likewise, in smaller facilities, which contain 50 to 100 rooms, consumption could mean a little less than 129,000 kWh. Clearly, it also represents a significant energy expenditure.
This may indicate a clear mismatch in the thrifty policies of some hotel complexes, where those who spend more have conventional hot water system. On the other hand, those that combined their devices with a solar boiler, as well as hybrid mechanisms, are the ones that reflect the most savings in monthly bills.
Looking at it from a more individualized perspective, it is not a problem for tourist areas that have hotels with an awareness of energy saving and environmental protection; from a global perspective, it could mean a
problem for some government entities in each state, within their policies of zero CO2 emissions to the environment and energy consumption.
In a hotel, the use of natural gas can reach up to 25% of total consumption, after all, this energy source is one of the most widely used, after oil and coal. This is a problem, because not only are the price of these inputs increasing systematically and progressively, which has a serious impact on the economy of any hotel complex, but also on greenhouse gas emissions. In this sense, it is essential to invest in efficient equipment, such as the solar boiler and hybrid systems.
Energy efficiency is no longer only a matter for organizations and environmentalists, but it also comprises a very important business strategy for any commercial or industrial company.
There are several types of water heaters systems that will benefit all sorts of hotels (from 1 star to 5 star).
An LP or natural gas boiler must offer:
Maximum thermal distribution for greater efficiency.
Maximized thermal performance.

Water heater in hotel

Substantial fuel savings to reduce costs.

Higher recovery rate when the hot water device is in periods of intensive use.
A good quality electric water heater provides:
Energy efficiency of at least 98%.
Thermal saving of up to 85% with the help of insulators in the system.
Efficient hot water mechanism heat storage, resulting in less energy loss than a 100 watt bulb for 48 hours on.
A water heater with a hybrid system (heat pump + electric boiler) provides the following advantages:
Possibility of not using many electrical elements, with the help of a good heat pump.
Important fuel savings.
That you can save up to 85% of gas.
Wide operating range, which makes the heat pump more usable for many days of the year.